Jazzy 614 HD Review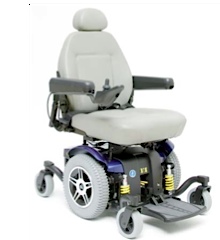 The Jazzy 614 HD is a mid-wheel drive wheelchair classified as Heavy Duty based on the HD in the name. This is, in my opinion, the best chair available on the market based on quality and usability. The charge time is decent at 11 hours and the chair will support 450 lbs which is more than adequate for your every day user. This is also a hefty jump from the standard Jazzy 614 which only has a weight spec of 300 lbs. From thin to heavy, this motorized wheelchair comes with a seat that is 24″ x 24″ which makes for very comfortable seating. The Available in Blue or Red without any upcharge.
Here are a few more specs:
Dual enhanced in-line motors
6" front and rear solid wheels & 14″ drive wheels
Active-Trac® ATX Suspension
Batteries are accessible from the rear
Adjustable foot platform
Ground Speed:
The Jazzy 614 HD is capable of speeds up to 4 1/4 MPH so watch out for the kids while maneuvering this machine around. You'll have to be careful with the available ground clearance of 2 1/4″. This is great for everyday driving but be careful if taking this motorized wheelchair off the beat path. It does ok unless the ground gets too choppy. You'll have clearance problems…
Options:
This chair can easily be changed to free wheel in case your batteries are running low or you just want to move around without the motor assist. The seat also folds all the way back which is a great option. The chair is very easy to take apart so this is also a plus.
Pro's
Easy of Use
Wide seating
Durable
Con's
Almost too powerful, wheel spin on heavy carpet
This is a big chair (good or bad based on your needs)
Conclusion
An excellent choice. Durable and easy to use. This would be the last motorized wheelchair you would ever have to buy. Price is moderate starting at $2000 for a used one and a decently optioned new for just under $4000.
Pride Jazzy 614 HD – $3,699.00
from: US Medical Supplies
Hope this review helps, I've opened up commenting on this page so if you have questions on the chair post them below!