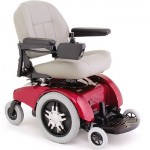 When selecting a motorized wheelchair you should consider whether the chair will be used indoor, outdoor or both indoor and outdoor. There are numerous styles available that all have their own pros and cons, here are a few of the most common:
Motorized Wheelchair Styles
Front-Wheel Drive: Excellent indoor maneuverability! At higher speeds they tend to feel very loose. The overall turning radius is 25 to 28 inches, but that can depending on the manufacturer so always check first. With bigger wheels installed forward of the seating area, this motorized wheelchair can handle rougher terrain with ease.
Mid-Wheel Drive: The best choice for indoor maneuverability. The smaller models are frequently used in nursing homes. The larger models are tough enough to handle indoor/outdoor use. There are typically 6 wheels , two powered wheels in the center with smaller wheels to the front and back.
Rear-Wheel Drive: The best choice for all around use but not quite as maneuverable as a mid-wheel motorized wheelchair. The turning radius of this chair is very wide but it is very well suited for high speed operation. This chair cannot be folded.
Folding Wheelchairs: Weighing in under 100 lbs, this lighter more convenient package offers the best mobility. It easily fits in the trunk of a car and is very easy to assemble making it the best choice for overall convenience, some manufacturers also offer a compact size for easier maneuverability in smaller spaces such as a doorway.
Tilt-In-Space: The easiest on your body,  a pressure reducing foam is used to distribute your weight evenly over the buttocks and legs. By tilting backwards you essentially remove the weight of your body from the buttocks and legs but still remain in a sitting position.
Reclining Back: This is the most common choice if you spend a considerable amount of time in your chair. It offers a number of positions not available with other chairs making it the most comfortable for extended use. This comes at a cost though, the added weight makes it much more difficult to transport.
Manual Wheelchair Styles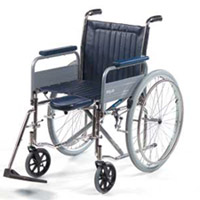 Exactly as the name implies, operated manually either by the operator using his or her arms to turn the wheels manually or by having another person assist by pushing from the rear.
Available in a variety of shapes, sizes, and styles there are many advantages over mobility scooters including:
1. Much lighter when compared to their electric counterpart
2. For the most part, less expensive
3. Due to the lighter weight they are easier to maneuver
4. More exercise (Your doing all the work manually)
Now let's look at some different styles:
Transport Wheelchairs: With light weight frames and small wheels, they are the perfect choice for small tasks or if you have someone to help push.
Standard Wheelchairs: Tiping the scales at around 35 pounds, is the best choice when you need something that will be used 4 hours per day or less.
Lightweight Manual Wheelchairs: Ranging from 28-34 pounds, this is an excellent choice for everyday use.
I hope this article helps take some of the mystery out of choosing the best motorized wheelchair for your needs. Browse through our wide variety of articles to find out more and don't forget to have a look at our wheelchairs for sale to find the best prices available on the internet.